A guide to Good Water Quality management
Basics of Water Quality Management
What is Blue Unit and how does it work
Benefits and features
Support options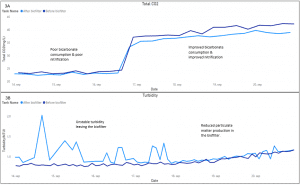 How simply turning down you degasser can improve your biofilter health.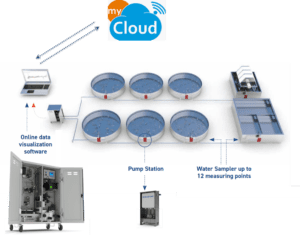 Blue Unit's business purpose is to generate and transform enormous amount of important, raw data collection on the fish farm into meaningful and useful information, and to cooperate with farm management in order to improve fish farm performance.

Blue Unit has over the last year and a half participated in a project that focuses on developing Danish technologies. The case was given the title "Data capture ensures stable water quality". You can read more in this case study.

Fish and bacteria produce CO2 into the production water of RAS farms, it is therefore essential that a farm has complete control on the degassing efficiency of their system.

Elevated levels of hydrogen sulfide (H2S) have lethal effects on fish. The presence of oxygen will work against the production of H2S, but it is a very slow process that cannot protect the fish in situations with sudden spikes of H2S. These anaerobic environments with H2S can form anywhere on a fish farm, particularly in biofilters and stagnant piping systems.

Blue Unit has created a new software as we felt that our data was not properly utilized with older software tools. 
With this tool you will be able to quickly assess where in the farm your attention is most needed.

This white paper compares and analyzes two identical data sets presented in two different ways.

This document is one part of several documents describing how a disturbance in one device can negatively influence other devices on a RAS-farm.

pH affects the toxicity of substances in water. 
Therefore, regulation of alkalinity and pH is an essential tool for controlling the toxicity of the water's components.

En muchas regiones donde se produce salmón existen importantes ventajas en el cultivo de un

 
smolt 
cada vez más grande antes de su siembra en centros de cultivo en mar.

In several systems we observed changes from having very stable water quality one day and the next it would become very cyclical.

Follafoss smolt facility is in central Norway and produces 20 million smolts each year. Follafoss built a new facility with 3 individual RAS units. Soon after starting up, different water quality challenges occurred.